Advance Parole Travel While I-485 is Pending with USCIS
Although the filing of Form I-485 gets you that much closer to adjusting your status to a green card, you are not quite there yet. That means that traveling outside the United States will still involve some extra steps. There is a specialized travel document that can get you back into America afterwards. Permission to re-enter the United States after leaving while a Form I-485 is still pending with the USCIS is called Advance Parole (AP). Getting AP can also prevent your Form I-485 application from being considered abandoned.
1. Rules for safe traveling with Advance Parole
Advance Parole allows a foreign national with a pending I-485 adjustment of status application to re-enter the U.S. without having to obtain a visa after they travel abroad. However, an Advance Parole travel document cannot be used in place of a passport.
Therefore, even if someone travels abroad safely with their AP, they will still need to present their passport with their AP card in order to be re-admitted into the United States. The USCIS also warns persons with a pending Form I-485 that traveling with an AP travel document does not mean that the holder can automatically re-enter the United States.
The U.S. Customs and Border Protection (CBP)  officer at the airport or border is charged with making the final decision about which persons are allowed to enter the United States. Therefore, the Advance Parole travel experience is never a guaranteed readmission back into America.
DO NOT travel abroad if someone had accrued more than 180 days of unlawful presence in the United States prior to their filing of I-485 applications even if they have an Advance Parole. In practice, they can re-enter the United States with the Advance Parole. But their departure from the United States will trigger a 3- year or 10-year inadmissible bar to United States, and accordingly, their I-485 application for adjustment of status will eventually get denied by the USCIS unless specified waiver is granted for such inadmissibility. Unfortunately, it is extremely difficult to get a waiver.
With DYgreencard's combination of high-tech and lawyer review service, we can help you prepare a complete I-485 adjustment of status application package ready to file, including the application for an Advance Parole. We can also help you prepare an application for an Advance Parole alone. Learn more if you'd like to file a complete I-485 application, or learn more if you'd like to file a separate application for an Advance Parole.
2. Immigration Form I-485
The Form I-485, Application to Register Permanent Residence or Adjust Status, is the application used to change to an immigrant status. When the Form I-485 is approved by the USCIS, then the applicant can alter their status to that of a lawful permanent resident (LPR), also known as a green card holder.
However, prior to receiving the green card, applicants may need to leave the United States for some reason and might become worried that they will not be able to cross back into the country. In such situations, the world traveler with a pending Form I-485 can apply for an AP. With AP, persons with a pending green card are making it clear that they have not abandoned their Form I-485 application just because they left the U.S. for a period of time.
3. Consequence that travel abroad without an Advance Parole
Depending on I-485 applicants' immigration status in the United States, traveling abroad without an Advance Parole will result different consequence. Generally, if I-485 applicants depart from the U.S. without first obtaining an Advance Parole, they will be deemed as having abandoned the I-485 application for adjustment as of the time of the departure. The following applicants fall within the three exceptions to the general rule:
If applicants have valid H-1/H-4 or L-1/L-2 status in the United States, they are not required to seek an AP to travel abroad as long as they are not in exclusion, deportation, or removal proceedings. They may be readmitted to the United States in the same status they maintained at the time of their departure, provided that they are able to demonstrate to the CBP officer at a port of entry that they:
If applicants have valid K-3 or K-4 status in the United States, they may travel outside of the U.S. without an AP and return using their K-3 or K-4 visa, even if they have filed for adjustment of status in the U.S. prior to departure.
If applicants have valid V-1 or V-2 status in the United States, they do not need to obtain an AP prior to traveling abroad.
4. How to get an Advance Parole travel document?
The first step toward getting an Advance Parole travel document begins with filling out a form. The Form I-131, Application for Travel Document, must be filled out completely in order prevent the USCIS from rejecting it and delaying the applicant's international travel plans. No filing fee is required to apply for a nonemergency AP as long as applicants have paid the I-485 filing fee when they filed their I-485 application. 
Other necessary evidence that should be submitted with the Form I-131 includes the following items:
Copy of an official photo ID document
Two identical U.S. passport style photos
Copy of USCIS I-797C Notice of Action receipt of Form I-485 (not applicable if the AP application is filled with I-485 application together)
Not sure if you're eligible for an Advance Parole? You can free check eligibility through DYgreencard without providing any personal information. When you're ready to apply, DYgreencard can prepare a complete I-131 application for Advance Parole. Learn more, or get started today.
5. Categories of Advance Parole
When applying for an AP, foreign nationals with pending adjustment of status application should consider how soon they need the travel document.
Nonemergency Advance Parole
Generally, the processing time for a nonemergency I-131 Advance Parole application is 3-6 months on average. A nonemergency Advance Parole is valid for 1 year. It cannot be renewed; however people can file a new Form I-131 to get a new AP for another 1 year as long as their I-485 application is pending with the USCIS.
Advance Parole expedited processing
In order to avoid waiting 120 days or more to receive the travel document, a person with a pending adjustment of status might consider asking for expedited processing by calling USCIS at 800-375-5283. However, the USCIS considers such requests on a case-by-case basis, and there is no guarantee that the application will be expedited.
For situations that involve severe hardship or emergency, the USCIS might readily consider issuing an Advance Parole travel document as soon as possible. However, generally the USCIS only grants emergency Advance Parole in the most urgent of circumstances, so it is important to provide the USCIS with compelling evidence. Normally, an emergency AP is valid for no more than 3 months.
Usually, to get emergency Advance Parole, the applicant needs to arrange an appointment by calling 800-375-5283 to visit a USCIS local office. If the USCIS adjudicator recognizes the gravity of the situation, they may grant emergency AP that same day. Make sure bring with a complete Form I-131, filing fee of $575 (yes, emergency AP needs a filing fee), two U.S. passport size photos, photo ID, I-485 receipt notice and compelling evidence.

6. Types of Advance Parole cards
There are two types of Advance Parole documents, so one person's card may look different from that of another person.
I-512L Advance Parole Document
In general, an I-512L (see sample below) is the travel document that will read "Authorization for Parole." If people don't file a Form I-131 with Form I-765 simultaneously, they will get a paper I-512L.
If people file a Form I-131 with Form I-765 simultaneously, most likely they will get an EAD/AP combo card (see sample below). An EAD/AP combo card serves as both an Employment Authorization Document (EAD) and an Advance Parole travel document.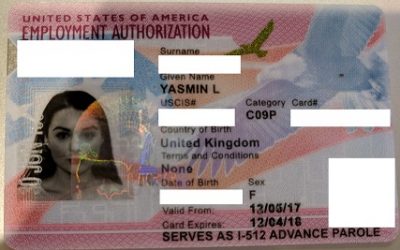 Either the I-512L paper document or the EAD/AP combo card are acceptable to present to the customs officer upon re-entry into the United States after traveling abroad.
The EAD/AP combination card makes for an easy way to prove I-485 applicants' permission to work in the United States and to be permitted to enter the country after leaving it while a green card application is pending.
DYgreencard — Application preparation + lawyer review, at an affordable price.


(Copyright by DYgreencard.com. To copy or distribute any of its content must be marked with the sentence "copied or distributed from DYgreencard.com".)