I-130 Processing Time-What Happens after Filing
If you are a U.S. citizen or lawful permanent resident (green card), and would like to help your eligible relative to immigrate to the United States, the first step is to file a Form I-130, Petition for Alien Relative. Unfortunately, you can only help certain relative to immigrate to the U.S. Check our Who May File I-130 Immigrant Petition and Its Checklist to learn more. Here we focus on the I-130 processing time and everything you need to know after its filing to USCIS.
What happens after filing I-130?
If you file the Form I-130 at USCIS's website, you will receive the I-797C, Notice of Action immediately after you make the payment for filing fee.  
If you properly file the paper Form I-130 immigrant petition and its supporting document to USCIS, USCIS will initially respond by mailing you a letter that confirms receipt of your petition. The receipt letter is formally known as Form I-797C, Notice of Action (see example below) and arrives approximately 2-4 weeks after filing.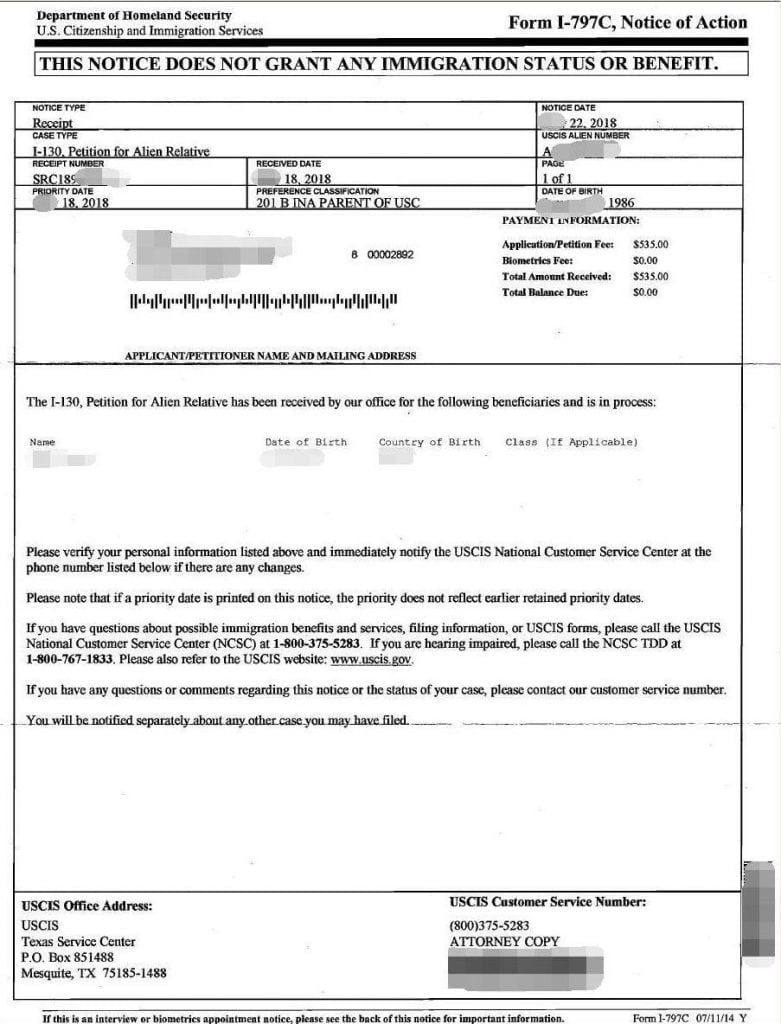 There is a receipt number at upper left column in the notice. With this receipt number, you may check case status for the petition through USCIS's online tool. Sometimes, USCIS fails to enter case information timely online, so don't be panic if it indicates the case does not exist. As long as you have the I-797 receipt notice, you are fine.
If something wrong in your filing, for example, the payment for the filing fee is incorrect or missing signature in the I-130 form, the filing will be rejected by USCIS and the entire application package will be returned to you within one month approximately. You are allowed to re-file the petition as long as you correct the mistake. Actually, there are almost 9% of I-130 petitions are rejected every year. That's why you'd better have an immigration lawyer to review your entire application package before filing to USCIS.
2. Request for evidence (probably not)
If you have filed a complete petition with all required supporting documents, it is unlikely that you will receive a request for evidence (RFE). However, petitioners that have not provided sufficient evidence will receive this request in the mail. It varies significantly when petitioners will receive a request for evidence because the I-130 processing time for each category of petition is different. Nevertheless, it is important to respond to the RFE letter with the requisite evidence and within the required time frame (normally 87 days from the issuance of RFE). If you are uncertain of the necessary action, this is a good time to contact an immigration attorney.
3. I-130 petition gets approved or denied by USCIS
After USCIS has fully reviewed your petition, USCIS will make adjudication on your petition that is approved or denied. If your petition is approved, you will receive an approval notice in the mail. You may check our article What Happens after I-130 Approved?  to learn more about what happens after I-130 gets approved by USCIS. If denied, USCIS will mail you a notice explaining the reasons for the denial. You have the right to appeal the denial, or just file a new I-130 petition to start over.  Again, it is recommended to consult an immigration attorney before you take further action if denied. 
In practice, the processing time for I-130 immigrant petitions primarily depends on two factors:
Preference of classification means the relationship between the I-130 petitioner (the one who files the I-130 petition) and the beneficiary (the one who would like to immigrate to the U.S.). You may figure out the preference of classification that your I-130 petition belongs to according to the following chart.
| | |
| --- | --- |
| Preference of classification | Description |
| IR | Immediate Relative: Spouse, minor children, and parents of U.S. citizens |
| F1 | Unmarried sons and daughters (21 years of age or older) of U.S. citizens |
| F2A | Spouse, unmarried sons and daughters under 21 of lawful permanent residents |
| F2B | Unmarried sons and daughters (21 or older) |
| F3 | Married sons and daughters of U.S. citizens |
| F4 | Brothers and sisters of U.S. citizens |
Which USCIS Service Center will process your I-130 petition depends on your physical address when filing. At the left bottom of the I-130 receipt notice, it indicates the service center's name and address.
If you are a U.S. citizen and apply for green card for your spouse, typically the processing time for this category (IR) of I-130 petitions for all USCIS Service Centers is 7-10 months. If you apply for green card for your sibling (F4) and your I-130 petition is processed by USCIS Texas Service Center, the processing time will be 1 year on average. If the I-130 petition under F4 category is processed by USCIS California Service Center, the processing time will 10 years on average.
Actually, you may check the case processing time through
USCIS's online processing time checking tool
. USCIS will update its processing time table every month. If your petition is earlier than the receipt date for a case inquiry listed in the table, you may file an
e-request
inquiry (Case Outside Normal Processing Time) to push USCIS to process your petition as soon as possible. E-request doesn't work every time but it does work sometimes that USCIS will adjudicate your petition faster.
Don't be confused I-130 processing time with visa number's waiting time
For any I-130 petition under F1, F2A, F2B, F3, or F4 category, an immigrant visa number must be current so that your relative may actually immigrate to the United States. Due to Congress limits the number of green card (immigrant visa number) may be granted each year, it causes waiting time for these categories of immigrant petitions. Visa number's waiting time depends on the country or region of birth of the beneficiary or beneficiary's spouse. Countries like India, Mexico, and Mainland China have a long time waiting time for visa number because of its large number of immigrants. You may check visa number's waiting time through the Visa Bulletin.
At DYgreencard.com, we may help you prepare many types of applications, like I-130 immigrant petition for spouse (no matter you are a U.S. citizen or green card holder), parent, child, or sibling, I-129F petition/K-1 visa for fiancé(e), I-90 application to renew green card, N-400 application for naturalization, I-131 application for reentry permit, and more. All you need to do is just answer a few simple questions online and upload supporting documents to our platform. Then we take care of the rest. 
DYgreencard — Immigration lawyer, at an affordable price.


(Copyright by DYgreencard.com. To copy or distribute any of its content must be marked with the sentence "copied or distributed from DYgreencard.com".)